Featured Projects
Turbocharger and Intake
Exhaust
Engine
Transmission and Driveshafts
Suspension and Steering
Brakes
Electrical Equipment
A/C and Climate Control
Interior and Accessories
---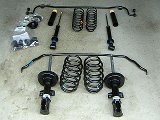 Saab Do-It-Yourself Guides

RSS
This site offers DIY articles and illustrations on maintenance, repairs and upgrades on Saab NG900, 9-3 and 9-5. While detailed, these are just guides, which were not intended as a reference, but rather a reflection of personal experiences we collected while working on our cars. For technical information, use the factory manual or other applicable sources. Always exercise safety while working on a car and use your common sense. We assume no responsibility for any outcome of the reader's actions.
No part of these materials can be further reproduced or published without a written consent of the authors. External linking is permitted to this section as a whole or to article index pages. Deep linking ("hotlinking") to specific image files is strictly prohibited. Users of the major Saab forums listed below are exempt from this rule, and are allowed to use the images in their posts for non-commercial purposes. If you wish to reference or license any of the materials for your business, you are required to obtain a permission first. We would also appreciate you letting us know if you choose to add a permanent link to us from your website.
If you have any technical or administrative questions, do not hesitate to email us. You can also find Dmitry on many automotive forums, such as Saab Central, Saab Link, Saab Club of Canada, Saab Network.
---
---